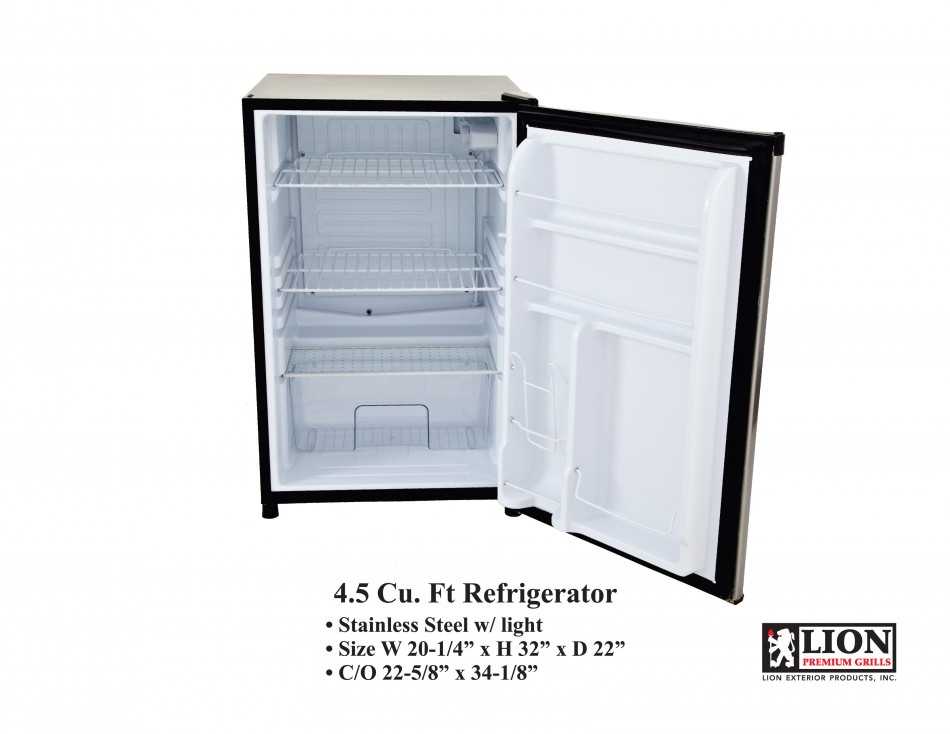 Price: $480.00
The Lion Premium Grills Refrigerator is environmentally friendly! Other refrigerators commonly use a refrigerant known as R-134a. Recent studies from the EPA and other scientific agencies have found this refrigerant to cause significantly more environmental warming than carbon dioxide per gram with a potential warming effect of 1,410. What does this mean exactly? It means that the release of one gram of R-134a is equivalent to the release of 1,410 grams of carbon dioxide into the atmosphere. In comparison, Freon 12, which was the most common refrigerant used throughout the 90's, has a rating of roughly 8,500. In addition to these negative environmental impacts, many units emitted extremely harmful CFCs (chlorofluorocarbon compounds) which were common in refrigerators during this period of time.
The Lion Premium Grills Refrigerator uses R-600a as a refrigerant which has a potential warming effect of only 3 as well as causing no ozone depletion. This is significantly more environmentally friendly than previous refrigerants as the numbers show. At Lion Premium Grills, we strive to "go green," minimizing our impact on the environment and maintaining quality of life standards by being eco-friendly. This is why our refrigerators also run on less electricity and our compressors are quieter, which not only benefits the environment but also actively saves money on monthly utility bills.
The fact that R-600a is environmentally friendly as well as meeting the highest standards as a refrigerant in it's cooling properties, is more than enough for us to use it for our refrigerators.
Visit Lion Grills for more information